LOJA - MACHALA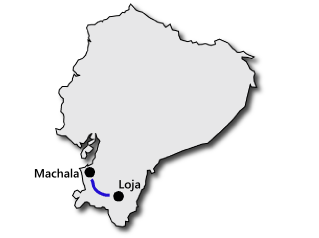 The southern frontier of Ecuador is where I find my bliss! Most travelers stop going west from Loja at the airport town, Catamayo, just short of opening themselves to a beautiful journey by bus through the uplands.
After you get your fill of music, chocolate, and coffee in Loja, yes, go to Catamayo, but not for the airport, silly! The views around Catamayo are breathtaking, especially if you go up to the Mirador of the Cross to see the whole valley. There are some spooky cool places here too, full of legends, like the Chiriguana Cave where in the old days people came to make pacts with the devil, or the Chichaca tunnel, made by the Incas for traveling, but full of ghosts!
A little farther west, then taking a northern branch from the highway is one of the most important shrines in the world, certainly in South America, the basilica of El Cisne, where thousands of pilgrims come by foot every year in August to pay homage to the virgin of El Cisne.
Catacocha is another charmer of a town, nestled on a mountain ridge that is home to El Shiricualpo ("Lover's Leap"), an amazing viewpoint from which you can see mountains and valleys to blow your mind. Catacocha is also well known for their making of pottery and candy!
From Catacocha, you have to backtrack a bit to get to the junction of Las Chinchas, from which you can catch a bus down through the gravelly canyons to Portovelo, one of the largest remaining gold mine towns in Ecuador. Time your schedule well to coordinate with the bus arrivals at Las Chinchas, as it's a breezy spot with little shelter. Alongside the town to the north and south are warm rivers that are great for swimming.
But the ultimate destination is just fifteen minutes up the hill from Portovelo, the best kept secret of Ecuador: Zaruma! The republican-era wood architecture of the fascinating city on the hill is where English, Italian, and French settlers came to mine for gold, building along the way a bit of a castle on the hill that is unique in Ecuador and has been named a UNESCO World Heritage site. Many argue the coffee grown on the hillsides around Zaruma is the finest of all Ecuadorian crops.
Continuing west you come to Piñas, not so interesting itself as the variety of forests around it that protect extremely rare species of birds, like Buenaventura, as well as beautiful orchid reserves of Orquideario Montañita and Piñas Oasis Ecologico
Santa Rosa is the middle point between the archipelagos of southern Ecuador, from which you can head off to offshore beaches, wetland tours, island hopping, and an abundance of shrimp feasts!
Kali